ARCHITECT - CONSERVATION AND RESTORATION POLE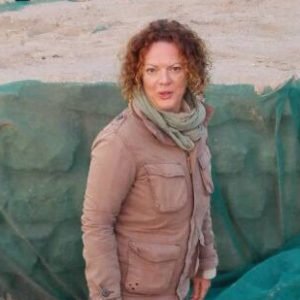 Emmanuelle Devaux is a DPLG architect, specialising in earthen architecture (DSA CRAterre), and graduated from ENSA Grenoble. She is an associate researcher at Ifpo (French Institute of the Near East) where she worked for 5 years in the Department of Archaeology and History of Antiquity. Her specialties are:
Expertise in architecture and heritage, conservation and presentation of archaeological sites and heritage buildings (France, Iraq, Kuwait, Lebanon, Syria);
Research, analysis, interpretation in the field of architecture and archaeology (Egypt, Lebanon, Mali, Syria) and scientific dissemination (collective works, articles, research notebooks, colloquia, etc.);
Management of teams of restoration worksites (particularly in Arabic);
Manual and digitized drawing, photogrammetry and 3D restitution in archaeological contexts (France, Jordan, Lebanon, Syria, Uzbekistan);
Support, facilitation, training and research management with local actors and students (Iraq, Kuwait, Lebanon, Syria).
Her background has allowed her to develop a facility for working in interdisciplinary teams and the necessary adaptability to a wide variety of terrain.
http://www.ifporient.org/emmanuelle-devaux