RESPONSIBLE ARCHAEOLOGICAL EXCAVATIONS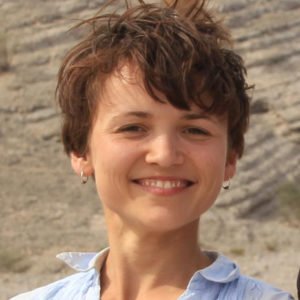 Julie Goy is a PhD candidate in Archaeology at the University of Paris 1 Panthéon-Sorbonne, under the supervision of Professor Pascal Butterlin and Anne Benoist (UMR 5133 – Archéorient, CNRS) and Cécile le Carlier (UMR 6566 – CReAAH, CNRS). She is a member of team VEPMO of Unité Mixte de Recherche UMR 7041 ArScAn.
Her research focuses on ancient metallurgical practices of the Oman peninsula's populations and more particularly on copper production in the 1st millennium BC. Her professional experience has been enriched by a special training in the physico-chemical study of copper and its derivatives, which provides her with an interdisciplinary approach needed for metallurgical studies.
The surveys and archaeological excavations she carried out as part of her research have given her a good knowledge of the field and heritage stakeholders in these regions.
http://www.arscan.fr/vepmo/membres-de-lequipe-2/julie-goy/
https://univ-paris1.academia.edu/juliegoy